Sig Sauer P365XL Spectre Comp Semi-Automatic Pistol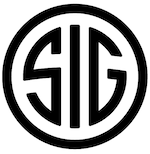 The P365XL Spectre Comp introduces an exciting new technology to the P365XL line with a slide designed by Custom Works that includes an integrated compensator that reduces muzzle flip and felt recoil by up to 30%. In the Sig Custom Works polymer lineup, the Spectre family of pistols has become the pinnacle of feature-rich performance.
These exclusive firearms are as functional as they are beautiful, with exclusive laser stippled grip modules, Titanium Nitride gold barrels and triggers, and custom-designed slides. Every Spectre series pistol includes XRay3 day/night sights, flat XSeries triggers, and is optic ready right out of the box. Each model also includes two magazines, a Sig Custom Works coin, and a certificate of authenticity.
The Sig P365XL Spectre Comp has an XSeries LXG laser stippled grip module and a Custom Works slide that is exclusive to this model, with updated cocking serrations that give the pistol a distinct appearance with the Titanium Nitride gold barrel and trigger. What truly distinguishes the Spectre Comp is its integrated compensator. It not only reduces muzzle flip by nearly 30%, but it will never come loose or cause function issues due to its unique integration with the slide.
Furthermore, a new Romeo Zero Elite optic installed with an optic-ready slide and rear dovetail sight can be co-witnessed with suppressor height sights. The P365XL Spectre Comp provides all of the advantages of a compensated pistol in a dependable, concealable, everyday carry package.

Features
Integrated compensator
Laser Stippled LXG XSeries grip module
Custom Works Spectre optic-ready slide
Titanium Nitride gold barrel and XSeries flat trigger
Compatible with all 365XL holsters
XRay3 Day/Night sights