Product Info for Pulsar Trail 1.6-12.8×42 LRF XP50 Thermal Riflescope
The Trail XP50 LRF, new for 2018, features stunningly vivid thermal imagery from a world-class 17m pixel pitch 640x480px sensor core, with human-sized heat detection up to 2,000 yards and laser rangefinding capability up to 1,100 yards. The XP50s popular white hot and black hot modes, 13 digital reticle options, proprietary picture-in-picture, variable 1.6-12.8x magnification, 50Hz refresh rate, and frost-resistant 640480 AMOLED display provide users with fluid imaging, customized thermal mapping, and a richly contrasted field of view, while the integrated laser rangefinder takes digital imaging accuracy to new heights of reliability.
A rechargeable lithium 8-hour battery keeps you in the game all night while avoiding the need for expensive battery purchases and refills in the past. Sighting-in thermal scopes has traditionally been difficult; however, the device's laser rangefinder, one-shot zero function, and ability to save three rifle profiles with five zero saves each make zeroing and switching the scope between rifles a breeze.
The Trail also has 8GB of internal memory for video recording and links to the Stream Vision app through Wi-Fi for viewing on connected personal devices, managing the optic remotely, upgrading software, and streaming, sharing, and downloading images and video. The Pulsar Trail XP50 LRF is IPX7 waterproof, fogproof, and dustproof, and it functions flawlessly in temperatures ranging from -13 to 122F. It also has an ultra-easy user interface with ergonomic button positions. A built-in accelerometer, a compact carrying case, and a wireless remote are among the additional features.
Features/Specifications:
The detection range of heat signatures is up to 2,000 yards. Integrated laser rangefinder with a range of up to 1,100 yards. Core with 640×480 resolution and 17 m pixel pitch AMOLED display with 640×480 resolution Video/sound recording is built-in.
Included Accessories:
Battery pack and charging kit, USB cable, wireless remote control Fixed weaver/picatinny rail, a cleaning cloth, Carrying case, Hex wrench.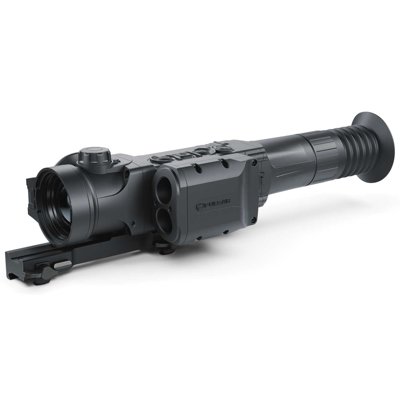 Specifications for Pulsar Trail 1.6-12.8×42 LRF XP50 Thermal Riflescope:
| | |
| --- | --- |
| Magnification: | Range 1.6 – 12.8 x |
| Objective Lens Diameter: | 42 mm |
| Field of View, Linear: | Range 65.4 – 48.9 ft at 100 yds |
| Length: | 11.22 in |
| Battery Type: | 18650 |
| Resolution: | Range 640 – 480 Pixels |
| Eye Relief: | 2 in |
| Color: | Black |
| Operating Temperature: | Range -13 – 122 Fahrenheit |
| Height: | 2.99 in |
| Width: | 4.01 in |
| Battery Life: | 8 Hours |
| Refresh Rate: | 50 |
| Range of Detection: | 2000 yds |
| Minimum Focus Distance: | 16 ft |
| Frame Rate: | 50 Hz |
Package Contents:
Pulsar Trail 1.6-12.8×42 LRF XP50 Thermal Riflescope