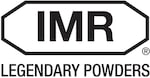 IMR 3031 is a versatile medium burn speed propellant that has long been a favorite of 308 Match shooters who use 168-grain match bullets. It works well in small-capacity varmint cartridges ranging from 223 Remington to 22-250 Remington, and it's an excellent 30-30 Winchester powder.

Important Information:
Do not exceed the loads displayed in the reloaders guide.
Never mix any two powders regardless of type, brand, or source.
Never substitute any smokeless powder for Black Powder or any Black Powder substitute.