Alliant Reloder 23 Smokeless Gun Powder

Every container of Alliant Smokeless Powder is backed by a century of manufacturing experience and the industry's most stringent quality control procedures. To ensure consistency, the chemical composition, grain shape and size, and overall density are constantly checked and tested in a ballistics lab.
Shooters require propellant that performs consistently across temperature extremes in order to achieve exceptional accuracy in the widest range of conditions. Alliant Powder's new Reloder 23 does the same thing as its sister product, AR-Comp. Its sophisticated TZ technology manipulates the material's response and resists the natural tendency of higher temperatures to generate more pressure and lower temperatures to generate less pressure. Reloder 23 is ideal for long-range target shooters looking for performance comparable to Reloder 22 while maintaining world-class temperature stability.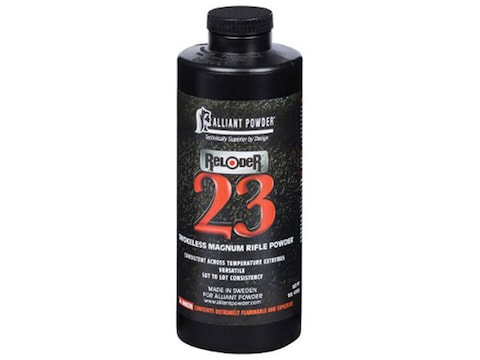 Warnings from the Manufacturer:
Do not exceed the loads displayed in the reloaders guide.
Never mix any two powders regardless of type, brand, or source.
Never substitute any smokeless powder for Black Powder or any Black Powder substitute.