Every bottle of Alliant Smokeless Powder is guaranteed by a century of manufacturing experience and the industry's most stringent quality control systems. To maintain uniformity, the chemical composition, grain shape and size, and overall density are continually verified and evaluated in a ballistics lab.
Action and precision Shooters want steady, clean-burning propellant that allows them to perform at their best when a competition is at stake. The Alliant Sport Pistol Powder meets these requirements with exceptionally dependable cycling, good charging and case fill, and ballistics that lend themselves to a wide range of popular loads. The low-muzzle-flash formulation of Alliant Sport Pistol is also suited for polymer-coated bullets.
Other double base powders can dissolve the polymer coatings at the bullet base, exposing the lead to vaporization during the ballistic cycle. The medium-fast-burning Sport Pistol is also quite temperature stable, so there is little velocity fluctuation to be concerned about during seasonal contests.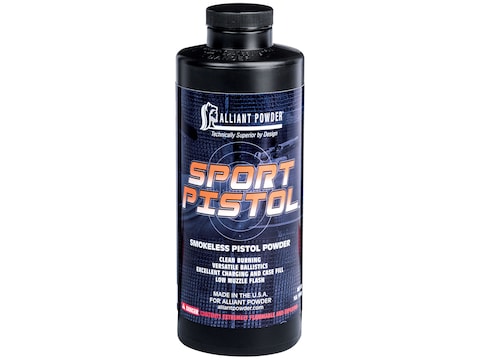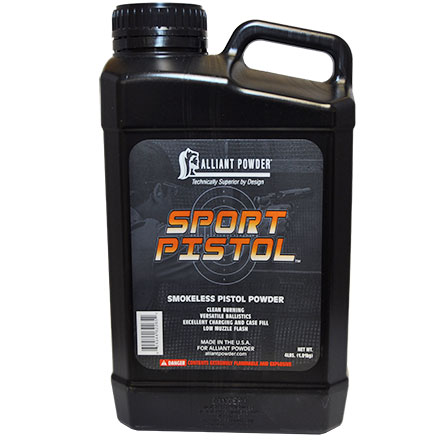 Warnings from the Manufacturer:
Do not exceed the loads displayed in the reloaders guide.
Never mix any two powders regardless of type, brand, or source.
Never substitute any smokeless powder for Black Powder or any Black Powder substitute.
Features
Clean-burning formulation
Extremely reliable cycling for competitive shooters
Optimized for polymer-coated bullets
Versatile ballistics
Excellent charging and case fill
Low muzzle flash