Accurate 2230 Smokeless Powder

Accurate Powders is a business that lives up to its name. The entire line of smokeless powders for handguns, rifles, and shotguns has been engineered and laboratory-tested to maximize precision and performance. Accurate Powders combine the best ballistic technicians and the highest quality components to ensure that every gun is better served with Accurate Powders.
Accurate 2230, formerly Accurate M-23, is a double-base, spherical rifle propellant that burns quickly. This versatile powder was developed for the 223 Remington cartridge, but it can also be used in a variety of small and medium caliber cartridges, including the 308 Winchester. 2230 also performs well in large bore straight wall cartridges like the 458 Winchester. 2230 is ideal for progressive loading due to its excellent flow characteristics and grain size.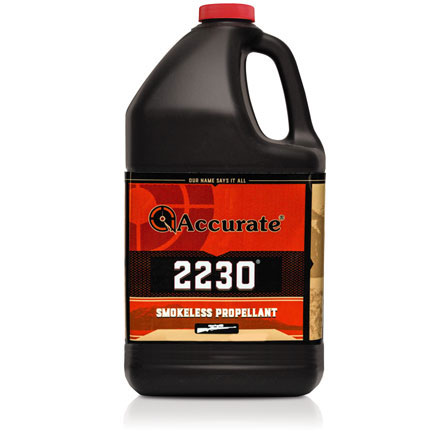 Warnings from the Manufacturer:
Do not exceed the loads displayed in the reloaders guide.
Never mix any two powders regardless of type, brand, or source.
Never substitute any smokeless powder for Black Powder or any Black Powder substitute.